Research
Overview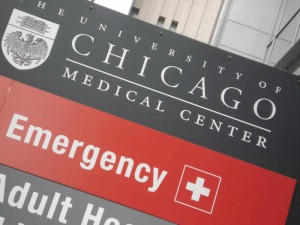 With the maturation of emergency medicine as a specialty, emphasis has been placed upon research as a means of establishing a scientific basis for clinical practice and communicating with the more traditional medical specialists. To attain these goals, the University of Chicago offers a wide array of resources including an active grants office, statistical services, a bio-medical engineering department, and a highly academic faculty in the clinical and basic sciences.
The Program offers unique opportunities for clinical research through the emergency medical (EMS) and aeromedical systems and in the wide variety of patient problems seen in the diverse clinical settings at our four clinical campuses. In addition, the NUH/Evanston campus provides the opportunity for our residents to participate in scholarly endeavors related to simulation models for teaching emergency medicine.
At the University of Chicago, we have established two Centers addressing hypoxia related injury that are hosted by Section of Emergency Medicine faculty. In 1995, we established the University of Chicago Emergency Resuscitation Center (ERC). Led by Terry Vanden Hoek, MD, the ERC focuses on oxidant stressors at the cellular level with translational applications in mouse, hog, and human models of ischemia/reperfusion therapies.
In 2007, we were most fortunate to attract Dr. Nanduri Prabhakar, an internationally renowned scholar in the field of oxygen biology, to the University of Chicago to establish the Center for Systems Biology of Oxygen Sensing. Dr Prabhakar's lab has identified novel signaling pathways and molecular mechanisms underlying the morbidity associated with chronic intermittent hypoxia and these revolutionary advances in our understanding of O2 biology are providing new opportunities for novel therapeutic interventions in human disease. The Center faculty member efforts have been recognized by the NIH with a training grant T32, a Program Project grant and two R-01s with NIH support in excess of $15M.
We are proud to note that the total funding amongst faculty at the four clinical campuses is over 20 million dollars and our Section faculty members enjoy more NIH funding than any other emergency medicine program in the country!
During the three years in our Program, the resident is expected to develop an area of special interest-expertise and demonstrate scholarship pursuant to graduation. To enrich the clinical and academic experience of training, each resident is expected to actively participate in at least one research project and prepare a paper for submission to a peer reviewed journal. Residents are given a menu of research projects to choose from; there are over a hundred current projects active amongst the three clinical campuses. Each residency class has an assigned faculty member who is responsible for insuring that every resident is given the guidance and academic expertise necessary to complete meaningful scholarship. And faculty members are available from other departments within the University to lend additional support and knowledge for multi-disciplinary projects. Ample computer systems are located within the Section faculty and resident offices and are available for data collection/analysis and word processing.
Please refer to our "Scholars and Fellowships" section of this website for additional information regarding research opportunities in our innovative "Physician Scientist Development Program."