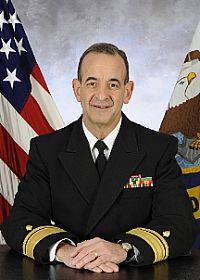 Congratulations to Dr. William Roberts for being named Uniformed Services University Senior Vice President.
A native of Washington DC, retired Rear Adm. Roberts was raised in Europe while his father served as a diplomat in the U. S. Foreign Service. He earned his Bachelor's degree (cum laude) from Princeton University, his Doctor of Medicine degree from George Washington University, and a Master in Business Administration degree from Edinburgh Business School, Edinburgh, Scotland. He was commissioned a lieutenant in the Navy's Medical Corps in May 1979, completed his surgical internship at the Naval Regional Medical Center, San Diego, and graduated from the University of Chicago's Emergency Medicine residency, where he served as chief resident from 1987-1988.
He later served as chair, Emergency Medicine Ambulatory Care Department, Naval Medical Center San Diego (which comprised the Navy's first Emergency Medicine residency) and as commanding officer, Medical Treatment Facility, USNS MERCY (T-AH 19). In 1998, he was appointed deputy commander, Naval Medical Center San Diego, and, subsequently served as force surgeon to Commander, Naval Surface Force, Coronado, California. He commanded Naval Hospital, Bremerton, Washington, one of the Navy's five Family Medicine teaching hospitals serving the Navy's third largest area of fleet concentration, from 2003 to 2006.
For more information on Dr. Roberts and his biography, please check out the links below:
Retired Rear Adm. (Dr.) William Roberts Named Uniformed Services University Senior Vice President