International Health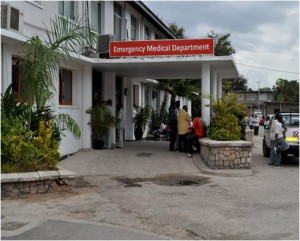 Overview
The University of Chicago recognizes International Health as a developing field in the academic community.  Supporting education, building capacity, and delivering high-quality healthcare in resource-poor settings and for vulnerable populations are at the core of international health and humanitarian emergency response.  Our EM faculty and residents actively pursue these goals through clinical practice, collaborative research, teaching and education, and capacity building.
Humanitarian Responses
The University of Chicago created the Global Health Initiative to partner with NGO's, academic institutions and communities around the world in research, education, and clinical care to provide opportunities in humanitarian responses. In most of these instances, the Global Health Initiative asked for Emergency Medicine faculty and residents to aid on the ground in crisis situations.
Haiti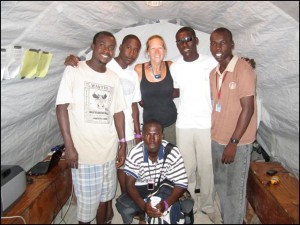 The Global Health Initiative contributed significantly following the devastating earthquake in Haiti in 2010.  Emergency Medicine faculty Drs. Christine Babcock and Keegan Checkett spent over three months total of "ground-time" in the acute humanitarian emergency phase, partnering with the Harvard Humanitarian Institute in the establishment of a large field hospital in Fond Parisien.  In post-emergency phase of response, current EM resident Corey Bills, Class of 2014, dedicated a year to developing a disaster response training program for Haitian national staff, in collaboration with Dr. Babcock.
New Orleans, LA
In 2005, EM faculty members responded to Hurricane Katrina in the emergency phase, and our department continues to support rebuilding efforts with annual residency-wide Habitat for Humanity trips to the New Orleans area.
---
International Transport Medicine
Dr. Cai Glushak coordinates the International Medical Transport Program for patients requiring medical evacuation and repatriations.  Critical care air ambulance aircraft and commercial airliners are used in our international transport program in which University of Chicago EM Residents moonlight as Flight Physician.
---
Resident Electives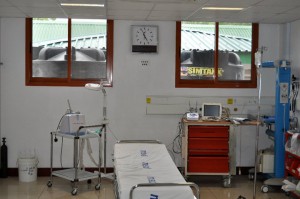 The University of Chicago EM Residency Program is one of the first EM programs nationally to support the costs (i.e. travel, vaccinations, food, lodging, etc.) associated with these efforts.  Many of our program's alumni look upon their international elective as one of their most heartfelt experiences in their careers.  Many of the international rotations have resulted in residents presenting at national conferences, being published in international journals and/or EM faculty pursuing funding opportunities.
---
Current IH Projects
JFK hospital in Monrovia, Liberia through the Health Education and Relief Through Teaching (HEARTT) program.
Muhimbili National Hospital in Dar es Salaam, Tanzania through the Abbott Fund in partnership with the Government of Tanzania.
---
Global Health Faculty
For more information, please contact:
Dr. Keegan Checkett, MD
kcheckett@medicine.bsd.uchicago.edu
---