The University of Chicago Medicine
The University of Chicago Medicine (UCM) medical campus in Hyde Park includes the Duchossois Center for Advanced Medicine (outpatient), Comer Children's Hospital, the Bernard Mitchell hospital, and the Center for Care and Discovery (inpatient). Transplantation, highly complex cancer treatment, aeromedical transport, extensive research programs and the ability to care for both primary and complex medical patients characterize the mission of UCM.
The University of Chicago Medicine directs pre-hospital care for the entire south side of Chicago. The command center for the Chicago South Mobile Intensive Care System is located in a specialized telemetry room within the adult emergency department. The adult Emergency Department (ED) sees over 50,000 adult patients annually, with an admission rate of over 25%. The Adult ED consists of 45 patient care beds (and 12 fast-track chairs), including six trauma/resuscitation suites and separate rooms for infection isolation, care of immune compromised patients, and psychiatric consultations. In the general care area, 45 rooms are fully equipped with critical care monitoring capabilities. The six trauma/resuscitation suites are immediately adjacent to the ambulance bay. The main trauma suite is equipped with a video camera and monitor which is used to record and review resuscitations. This experience is invaluable for analyzing and learning from the acute care setting. The new emergency department opened in January of 2018.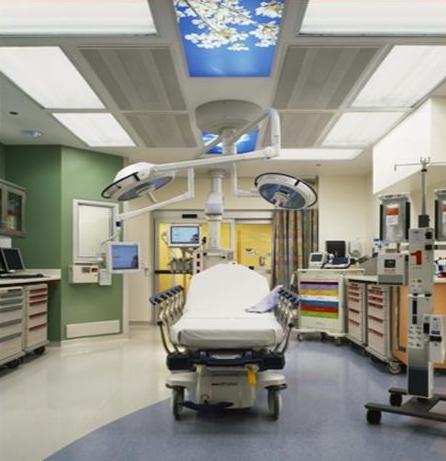 The Comer Children's Hospital (Pediatric) ED came on line in late 2007 and consists of 28 critical care beds for monitoring acutely ill patients; all are private examining rooms; in addition there are two specialized isolation rooms, a procedure room with gas anesthesia available, a large orthopedic room with mobile fluoroscopy, and two large trauma resuscitation suites (OR level capability). The Pediatric ED is attended and directed by full-time pediatric emergency medicine specialists. The Pediatric ED patient census for 2012 was just under 30,000 patients seen, thus a total of nearly 90,000 total adult and pediatric ED patients are taken care of annually at the University of Chicago Medicine.
Other facilities in the Emergency Department include a well equipped laboratory for use by the ED staff, a classroom, and a decontamination room specifically equipped to handle hazardous materials, including radiation decontamination. The Department of Radiology is immediately adjacent to the Emergency Department providing quick access for emergency procedures. All past, current and emergent radiographs, including general, CT and MRI images are immediately available in the ED via a digitalized radiology imaging system.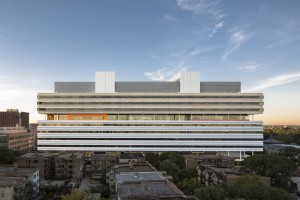 The Center for Care and Discovery (CCD) is the UCM's new ten story 1.2 million square foot adult inpatient hospital building, focusing on cancer, advanced surgery, high tech imaging, the neurosciences and gastrointestinal procedures. The CCD includes 240 private patient rooms, space for 21 operating rooms, an imaging department with space for 3 CT's, 2 MR's, 1 fluoroscopy room, 2 general radiology rooms, 7 interventional radiology rooms; and a gastroenterology procedures suite with 11 GI procedure rooms, 2 fluoroscopy rooms and 2 bronchoscopy rooms.
For more information on the University of Chicago Medicine, please visit the UC Hospitals website.