Program Info
Introduction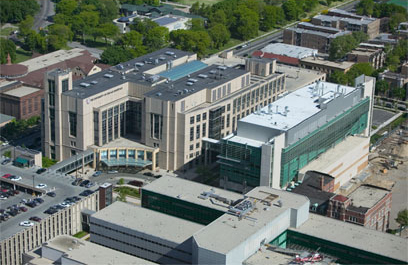 Founded in 1972, the University of Chicago Emergency Medicine Residency is one of the country's oldest training programs. Throughout its history, the residency program has been committed to excellence in clinical care and teaching and to the development of future educators and leaders in the field of emergency medicine. Program alumni have distinguished themselves by achieving leadership roles in the academic, teaching, political, and practice arenas of emergency medicine.
The University of Chicago Medical Center is renowned for excellence in patient care, the outstanding quality of the housestaff and faculty, a commitment to education, and the impact of contributions to the science of medicine and the art of clinical practice. The patient population ranges from the newborn to the aged and reflects a mix of private and referral patients as well as the emergent care of the medically under served. The emergency medicine program has a proud tradition at the University and has played a leadership role in developing the prehospital care system in Chicago, initiating the only hospital-based aeromedical transport system in the city, and contributing to the care of level I trauma patients.
Our affiliation with the Mt Sinai Hospital dates from 1993. Located on the near southwest side of Chicago, the hospital is dedicated to the care of a primarily medically under served population and is respected for its contributions in family medicine, obstetrical and trauma patient care. It is a City of Chicago level I trauma center for both adult and pediatric patients.
Our newest partner for the education of our residents is with the NorthShore University HealthSystem (NUH). This is a major affiliation for both the education of our University of Chicago Pritzker School of Medicine medical students and for University of Chicago house staff, particularly for our emergency medicine residents. Starting in July 2009, residents at all levels of training fully integrated into the emrgency department at NUH. This is an especially rewarding affiliation for our Program as NUH/Evanston is one of the oldest emergency medicine residency educational sites (since 1974), supports one of the most well regarded emergency medicine simulation centers in the country, is a City of Chicago/regional-designated level I trauma center, and is a center of excellence for toxicology, cancer, cardiovascular, GI, obsterics-gynecology, neurosciences and pediatric care.
The clinical care, teaching, research and administrative opportunities of the program, the camaraderie of the residents and faculty, and the academic excitement and superb resources of the University of Chicago and the Medical Center, NorthShore University HealthSystem and Mt Sinai Hospital combine to offer our residents a supportive environment in which to achieve success. We enjoy a rich history and a promising future. Please join us in our mission to produce emergency medicine specialists who are excellent clinicians and who will lead the next generation of emergency physicians.
Christine A. Babcock, MD, MSc, FACEP
Program Director,
University of Chicago Emergency Medicine Residency