The EMS Experience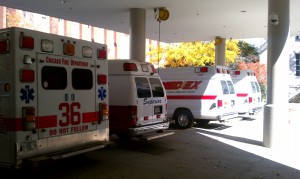 The University of Chicago Medical Center is one of four resource hospitals that directs prehospital care in the Chicago EMS System (Region XI), one of the largest and busiest systems in the United States. The Chicago South EMS System, which encompasses the entire southern half of the city, is under the medical control of the Emergency Department at the University of Chicago. The University of Chicago performs online medical control for over 20,000 ALS telemetry calls annually for the Chicago Fire Department. We are a Primary Stroke and STEMI receiving center, as well as for specialty Burn and Obstetric patients. Our Comer Children's Emergency Department receives pediatric trauma, burn, and critical medical patients.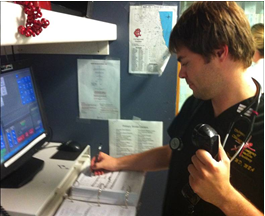 Residents participate directly in the EMS system as the medical oversight of prehospital care. All residents are trained to be Emergency Communication Physicians (ECPs) through a Base Station course at the beginning of intern year. They are responsible for providing online medical control for the EMS providers via telemetry radio in conjunction with ECRNs at the University of Chicago and our three associate hospitals. Field time with the Chicago Fire Department enhances the EMS experience and encourages the prehospital provider-physician relationship. The Emergency Department hosts periodic disaster drills and residents can participate as on-site physicians or evaluators. The EMS curriculum is supplemented by various didactic sessions during residency conference times. There are opportunities for involvement in projects involving the prehospital stroke and STEMI systems of care, Mobile Integrated Healthcare programs to prevent falls and readmissions, and disaster preparedness for the ED and the region.
Residents participate in an annual disaster drill to obtain practical experience regarding mass casualty triage, patient decontamination, and disaster management principles.  As participants, they are assigned roles and are expected to manage an ED surge of mock patients with moulage in a simulated environment.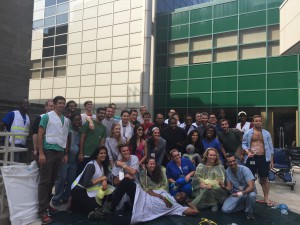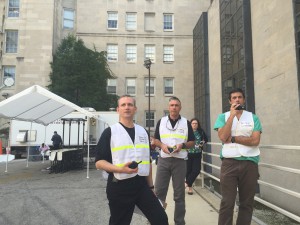 Please visit our website, https://chicagoems.org for more information, including current ALS and BLS Standing Medical Orders (SMOs) and policies. For more information visit: http://www.uchospitals.edu/specialties/emergency-med/ems.html.