Aeromedical (UCAN)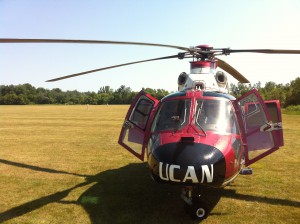 Chicago's First Hospital-Based Air Ambulance!
Welcome to the University of Chicago Aeromedical Network, known as UCAN. UCAN is the air medical service of the University of Chicago Medicine. UCAN provides one of the most unique training opportunities for our residents. We operate a Nurse/Resident crew model – which means our Emergency Medicine Residents are primary providers on the helicopter. You're not just an observer but the physician on board – expected to make decisions and manage some of the sickest and most complex medical and trauma patients you will ever see.
Who We Fly and How We Operate
As a flight physician with UCAN, you will fly one of the fastest, largest and safest aeromedical helicopters in the world. We a fly a Eurocopter (Aerospeciale) Dauphin 365 N1 a twin engine helicopter with a cruising speed up to 180 miles/hr. Our range is approximately 200 nautical miles. This speed and range allows us to serve a far outlying community. A great proportion of our flights are interfacility transports where we fly critically ill or injured neonatal, pediatric and adult patients. However, some of the most exciting flights you will have are directly to the accident scene where UCAN will land directly on the highway or field and provide the primary life saving resuscitation.
The University of Chicago being a large tertiary care center means we are also entrusted in flying some of the most dynamic and ill critical care patients. Our helicopter is configured to fly aortic balloon pumps, impellas, nitric oxide, left ventricular assist devices, ECHMO and transvenous pacemakers to name a few. Our volume of pediatric and neonatal transfers gives the residents a unique exposure to procedures and resuscitation of premature infants, and pediatric traumas who we return to our Level 1 trauma center at Comer Children's Hospital.
Residency Training
Starting your second year you will get your flight suit and become a flight physician. However, your training starts first year as you do ride along shifts with the crew. We also augment the residency curriculum with aeromedical specific training. We have monthly peer review lectures, courses on advanced airway management, and lectures on flight physiology and resuscitation science. In addition, you need to be competent in emergency procedures, advanced adult and pediatric airways and the resuscitation of adult and pediatric patients. As you will hear more on your visit to our program we also have a unique teaching model in our EDs. The interns are the procedure doctors and get first crack at airways, lines and tubes. You will also be given the sickest patients in the ED to care for – all to prepare you for your flight experience.
Aircraft Specifications
Eurocopter (Aerospeciale) Dauphin 365 N1
Twin 750 horsepower turboshaft engines
Typical cruising speed 155 knots (180 miles/hr)
Fuel capacity 900 kg
Range: 3 hours (approximatly 540 statute miles)
Maximum ceiling: 20,000 feet
Dual pilot capable
Multi-band (VHF, UHF) radio communication
Safety Enhancements
Three axis auto-pilot, with redundancy
Real-time on board weather radar
GPS equipped
Pilot safety
Bi-annual formal flight-safety training
All pilots are military trained
2 dedicated full-time aviation mechanical technicians
Daily mechanical inspections
Strict enforcement of routine maintenance schedule
Cabin Configuration
Capable of carrying two supine and backboarded patients
Intensive care capabilities
Onboard oxygen, suction, medical air, electrical
Neonatal isolette configuration
Intra-aortic Balloon Pump configuration
Carry's a crew of 3-4 (Pilot, Flight Nurse, Flight Physician, Optional Rider)
Depending on configuration, can accomdate transport of family member
Whenever & Wherever Needed!
How to schedule our service?
Please call our Communication Center at 773-702-3222. We have trained aeromedical communication specialists 24 hours a day. The UCAN team can be summoned by physicians and hospital staff or by authorized industrial and public safety personnel such as police officers, fire fighters, paramedics and other emergency medical personnel.
UCAN's air service is provided by